Source: CNN
Floating homes, luxury living and smart home technology aren't necessarily things that tend to go hand in hand.
But Ocean Builders, a Panama-based company that specializes in innovative marine technology, has just unveiled a fleet of "revolutionary living pods" that manage to bring all three together.
Described as the "world's first eco-restorative homes," the pods, which range from around $295,000 to $1.5 million in price, are currently under construction in the Linton Bay Marina on the north coast of Panama.
Designed by Dutch architect Koen Olthuis and his team at Waterstudio, the three models available include flagship model the SeaPod, built for aquatic living, the GreenPod, devised for land use, and the EcoPod, an ecologically and economically friendly option.
Elevated structure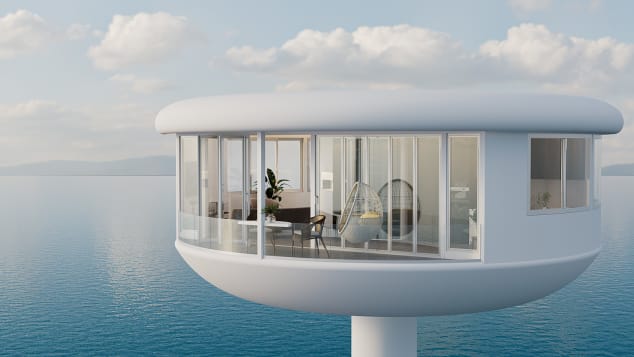 The Seapod was conceptualized by Rüdiger Koch, Head of Engineering at Ocean Builders, along with Chief Executive Officer Grant Romundt, as a solution to the lack of space in popular beach destinations.
The elevated structure provides 833 square feet (73 square meters) of living space, including a master bedroom, living room, kitchen and bathroom, spread across three and a half levels.
With room for two people, the unit utilizes over 1,688 cubic feet of air-filled steel tubes to float 7.5 feet (2.2 meters) over the waves, and features 575 square feet of panoramic windows and 360-degree ocean views.
Romundt hopes the design will challenge perceptions of homes and travel, as well as allow residents to live on the water without having to make sacrifices when it comes to the "luxuries of modern living."
"Normally when you live on the water, it's on a boat, which has a living situation that is unacceptable to most people," Romundt tells CNN Travel.
"So we've designed a home that floats on the water that gives you an experience of living on land, but even more."
The pods are to be equipped with state-of-the-art technology, along with customizable applications that tailor the design and functionality to suit those inside.
http://onelifetech.com/wp-content/uploads/2022/08/futuristic-homes.jpg
619
1100
admin
http://onelifetech.com/wp-content/uploads/2022/01/OneLife.png
admin
2022-08-20 09:20:43
2022-08-20 09:20:43
These eco-friendly futuristic floating homes are currently under construction